July 28, 2020 by Maura
Geeklink App Open Source and SDK
Directly integrate and have your whole house smart home system.
1、Open Source and SDK System Including
App source code, SDK, server API, and developer document.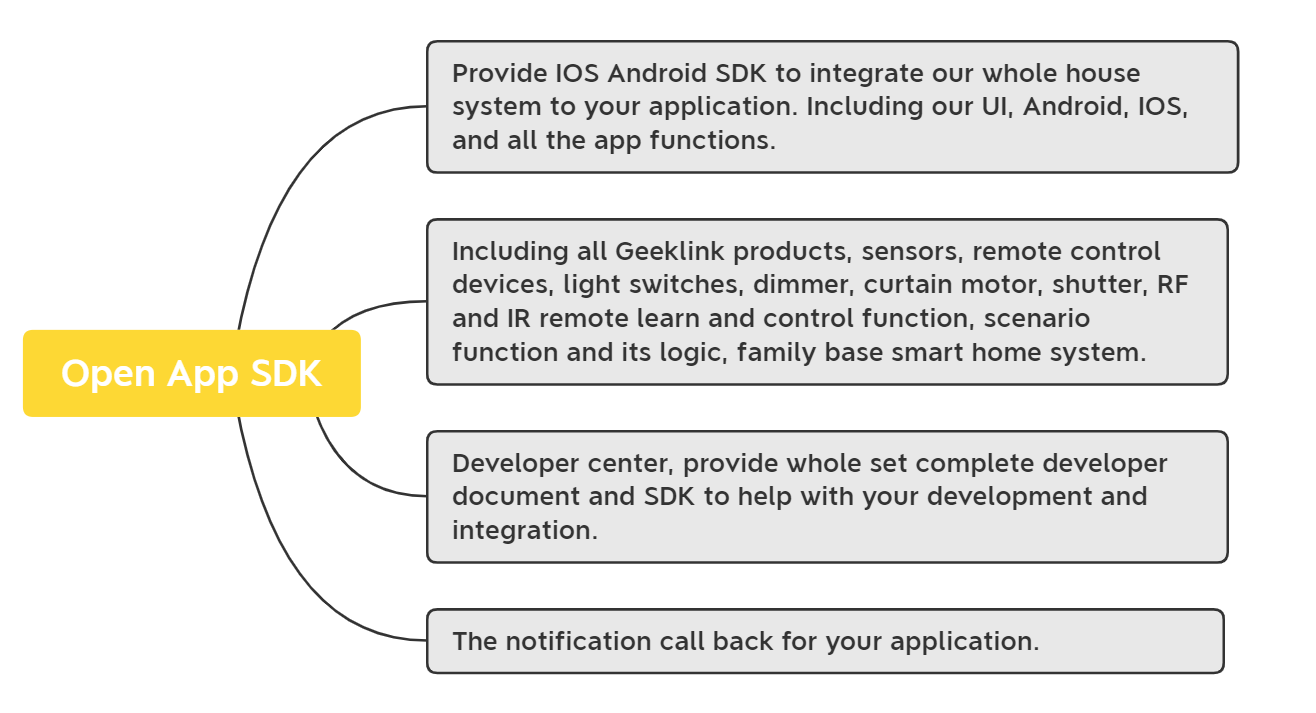 2、Feature
Smart control:Support remote control your house with the app.
Illumination:Smart switch directly replaces your existing switch, if you don't want to change your existing switch, but as it upgrades it to a smart home switch, we also have a product for this requirement. Scenario button support one-button control of multiple switches. You can also use the app to sync multiple switch's statuses, realize the function of 2 way, 3 way, 4 way, or even 5-way switch function.
Security :Arm/disarm/night arm/ alarm home, 4 security modes for your choice. 4 is not enough? Try scenario function, customized up to 80 security modes/ scenarios according to your requirement.
Smart Scenarios:One button or automation scenario for choice. "And, or, If" logic fit every special scenario requirement.
Smart timer:Basic function already, automatically control the device base on time, security mode. The timer can also work with sensors for automation. For example, at 6 pm, light sensors detect sunset, turn on the irrigation system.
Smart Home Family:One account have multiple families, you are the admin of your house, you are the member of your parents' house, you are the admin of your office. Admin can limit the device control, room access, scenarios access, and control many other functions of the member account.
Smart Devices:We have a wide range of smart home devices, one stand solution provider.
3、Support devices
Gateway: Thinker, Thinker Pro, Thinker Mini, In-wall Mini
Wi-Fi Devices: Smart Pai, Wi-Fi socket, Wi-Fi relay, Wi-Fi switches, RGB bulb, RGB lamp strips, Split Central AC controller, Wi-Fi gas detector, Breaker Controller.
GFSK Sub Devices( need to work with thinker, thinker pro, thinker mini, or in-wall mini for automation): Sensor extension, FBB series touch feedback switches, FBC series touch feedback switches, FBD series feedback switches, FBE-D3 series feedback switches, FBE-D6 series feedback switches, FBB series feedback socket, FBE series feedback socket, feedback curtain, door lock, scenario switches, smart remote controller, PIR motion sensor, Door sensor, Siren, Central AC Thermostat, Water leak detector, Vibration Sensor, Smoke detector, light-hum-temp sensor, gas/water valve.
4、Support devices
IR Universal Remote Controller (Thinker, Thinker Pro, Thinker Mini, In-wall Mini, and Smart Pai have this function): Support IR lean code and control, Code library for AC, TV, STB. Other IR devices support learn code and control.
RF Universal Remote Controller (Thinker, Thinker Pro, Thinker Mini, In-wall Mini have this function): support learn RF 433 MHz and 315 MHz and control. Work with 315 MHz sensors for security: Controller (Thinker, Thinker Pro, Thinker Mini, In-wall Mini have this function
5、Max Code Library and Expanding
We have the code library for the IR control code for the AC, TV, STB, and etc. If there is any code not exist in our code library, we can also support learn code for the control.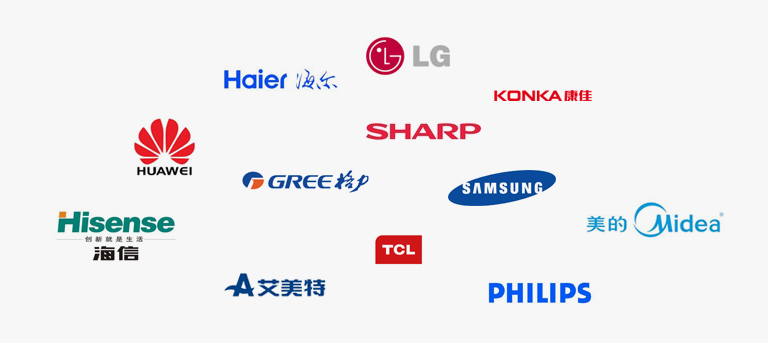 6、Voice control integration
Geeklink Smart Home system support control with Alexa, Google Home, and Siri shortcut. We can provide the API port so that your smart home system supports it too.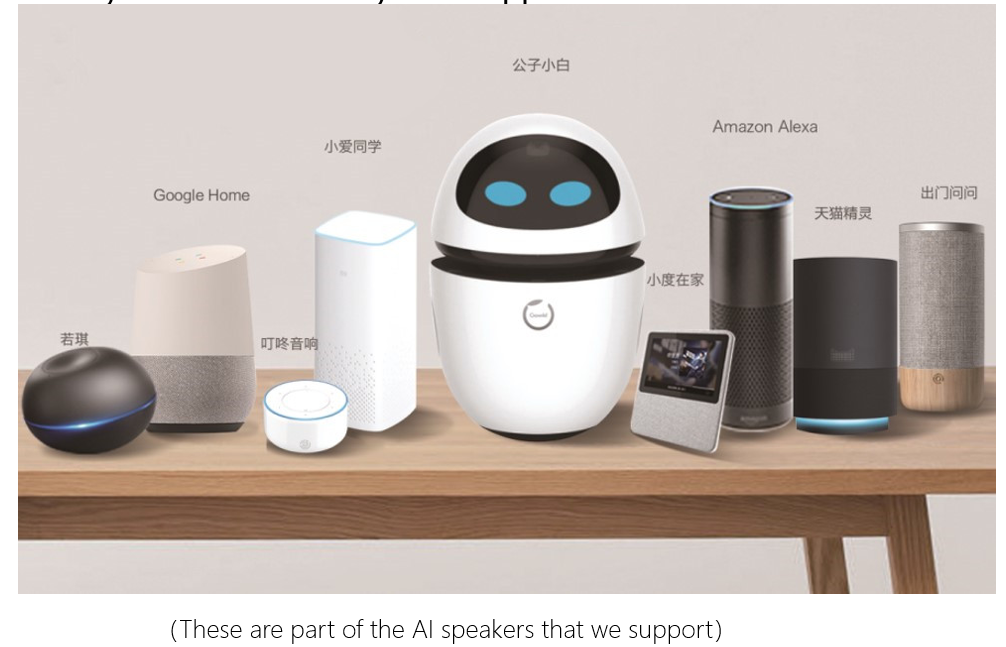 7、Patent and experienced solution
As early as 2012, Geeklink has obtained a patent in the IR house appliances control region and we have been developed and became one of the most professional smart home developers and manufacturers in the market.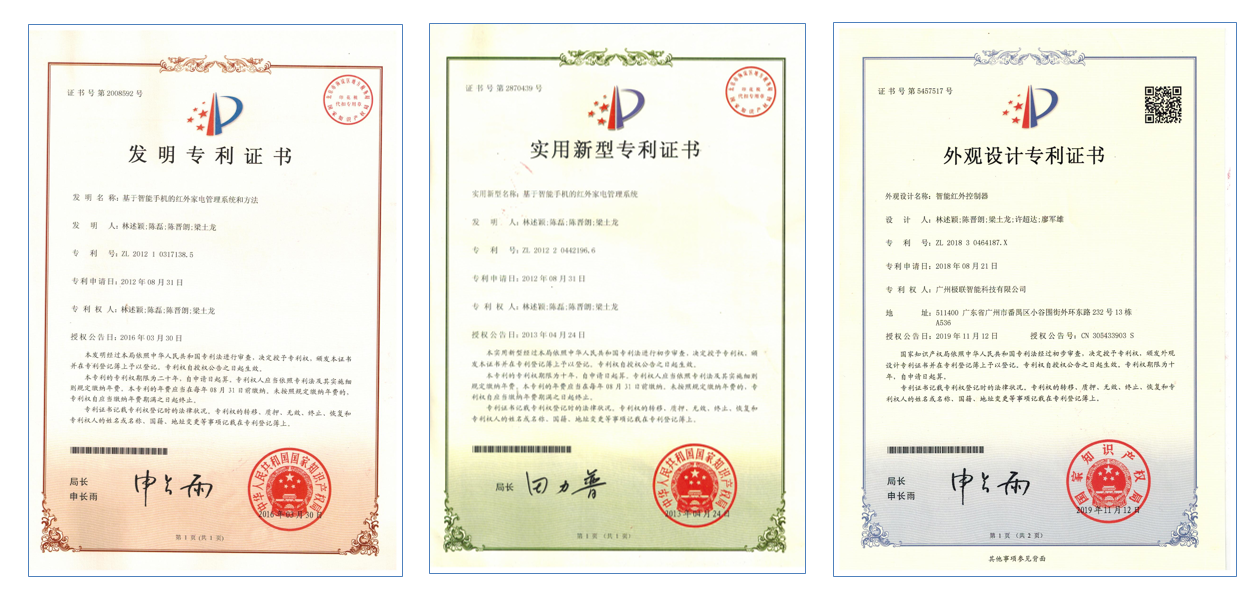 Contact Maura, WhatsApp/Wechat/Viber: +86 13751752359 or email to maura@geeklink.com.cn . For source code and more details.