August 1, 2022 by Maura
What are the most common scenarios for the smart home?
Tag: smart home scenarios, use of smart home, examples of the smart home.
The smart home does not just mean connecting everything to the cellphone and using the cellphone to control everything.
To get the best user experience, you need a smart home system set up based on your daily habit.
What are the most common scenarios that the smart home will bring you? Now I will show you some examples of a day with Geeklink smart home solutions.
Gently wake you up
In the morning
Timer wakes you up with Curtain open,
Sunshine greets you gently.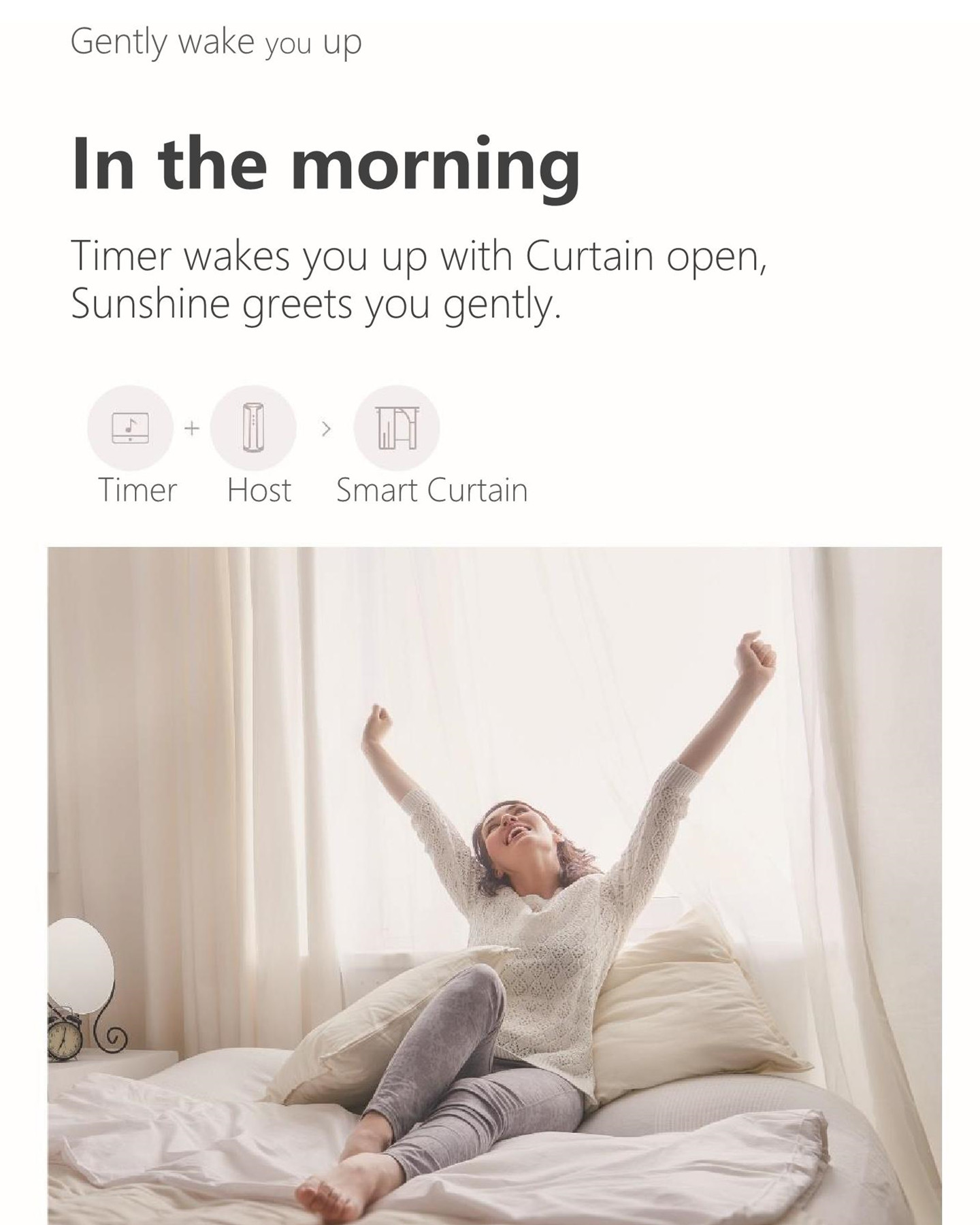 Arm the house
Leave home for work
Trigger leave home scenario: your house appliances will be in place while the host, sensor, siren, and camera begin to arm your house.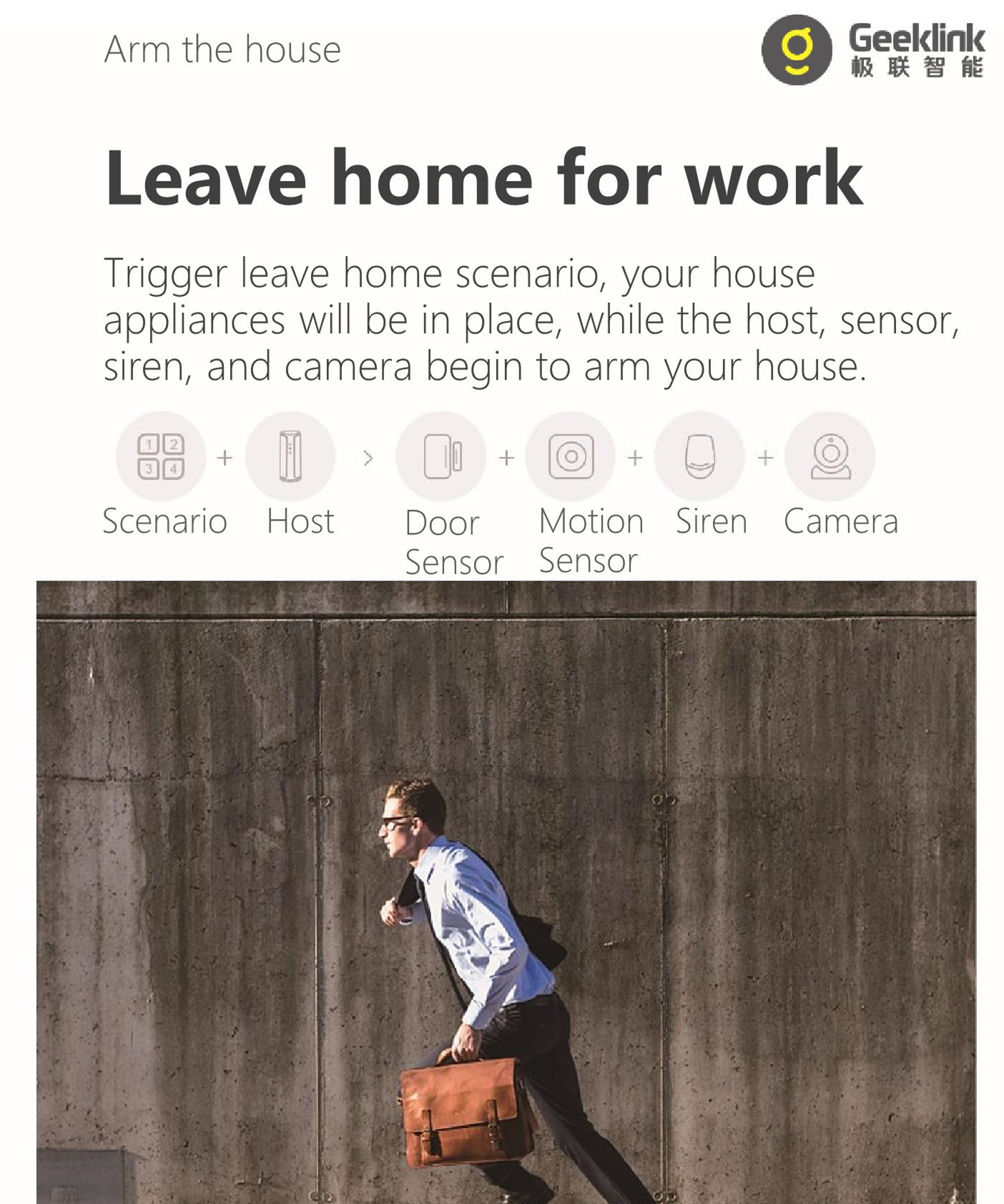 Simple surveillance
While you are at work
You can't be there for your families all the time, But you can check remotely with the smart camera.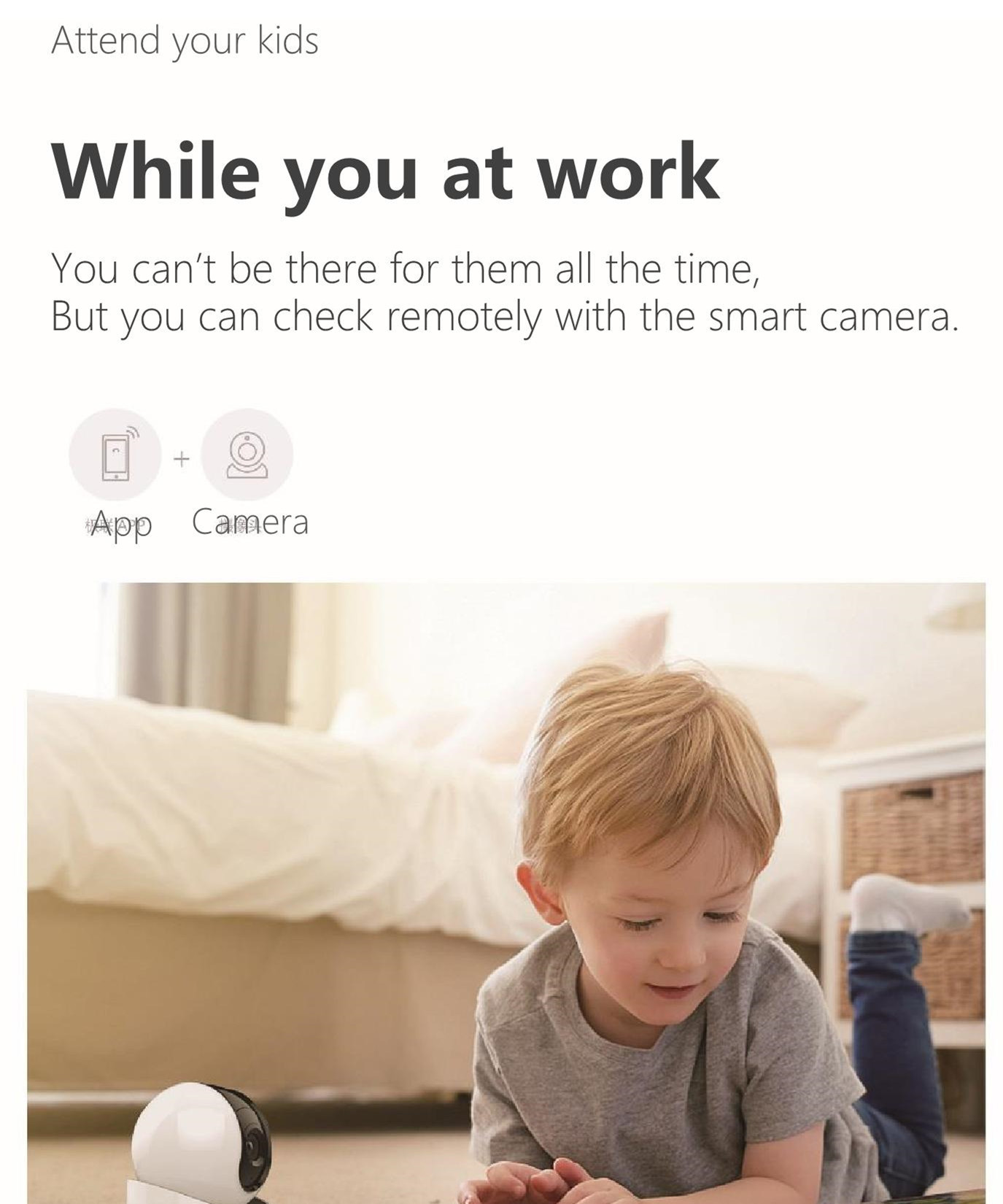 Illumination automation
Back home from work
No more walking in a dark cold house. You can set up your back home mode so that lights, house appliances, and curtains will be in place.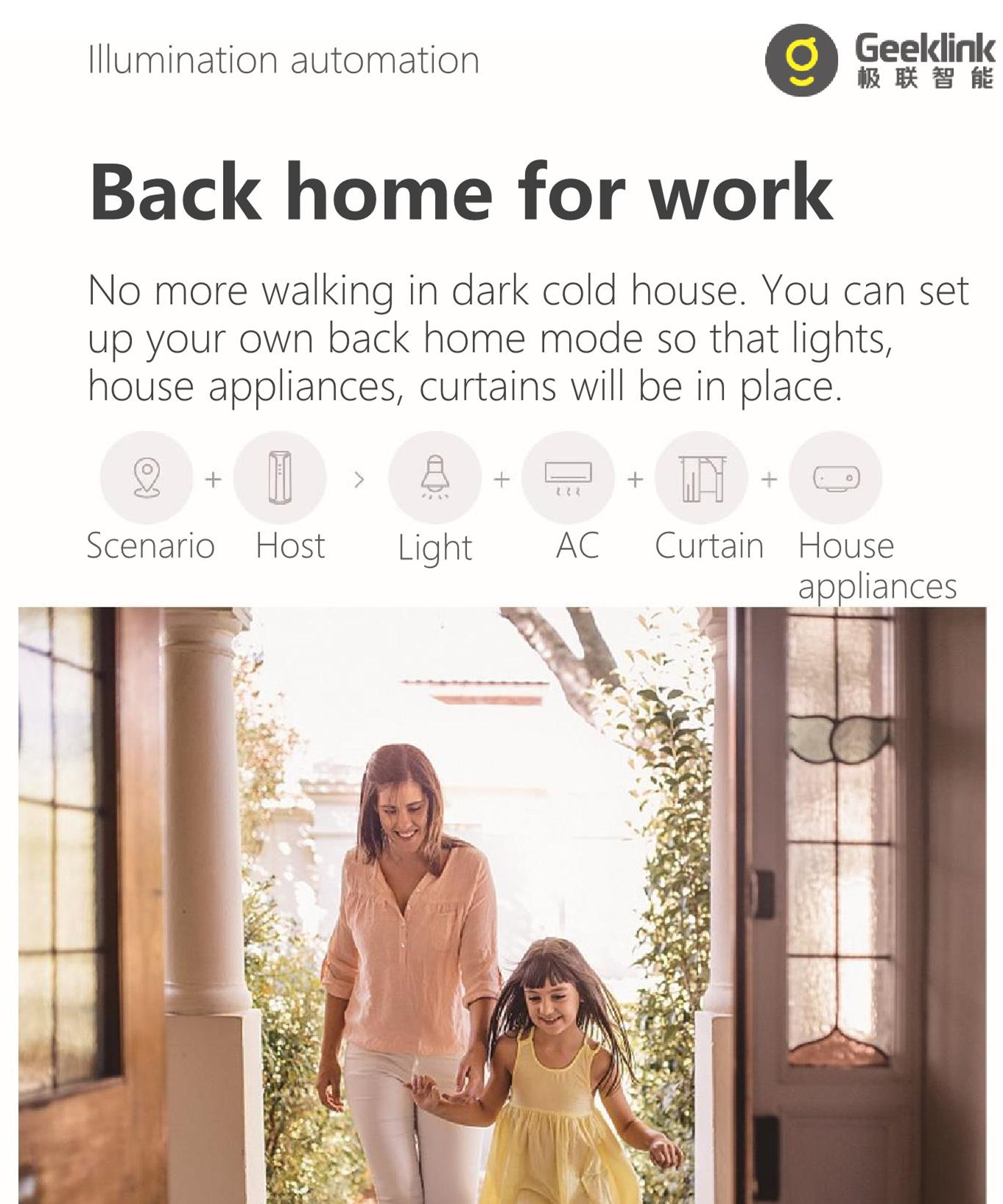 Happy time with family
Entertainment
AC, Curtain, TV, Projector, Lights, controlling all these devices before you can enjoy the movie?
Just say the word to Alexa or Google, and all will be ready.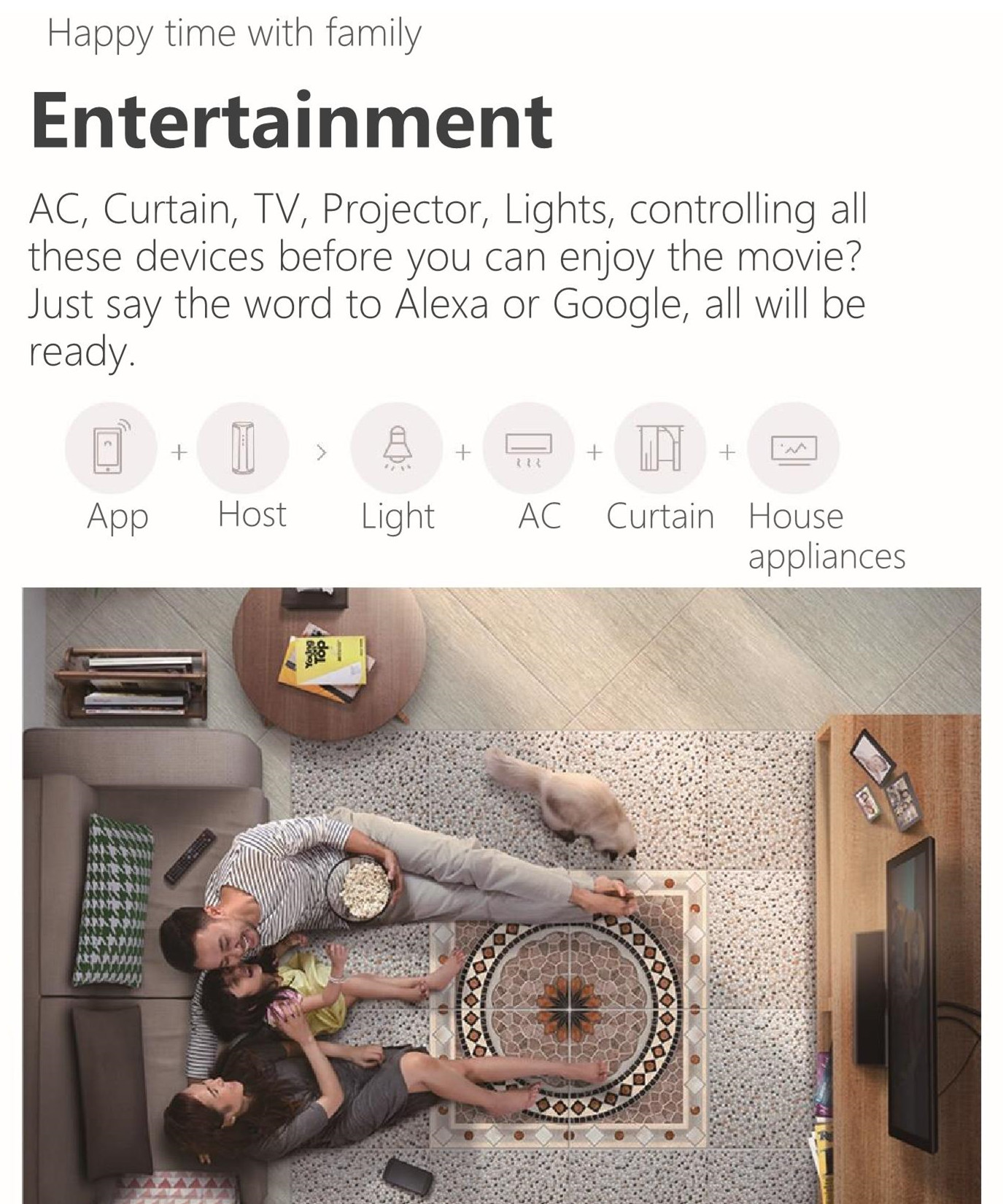 Care for the old
Wake up at night
No more walking in the dark when you want to go to the bathroom in the middle of the night. Use the bedside scenario to turn on all the lights you need, and when you go back to bed, turn off all the lights.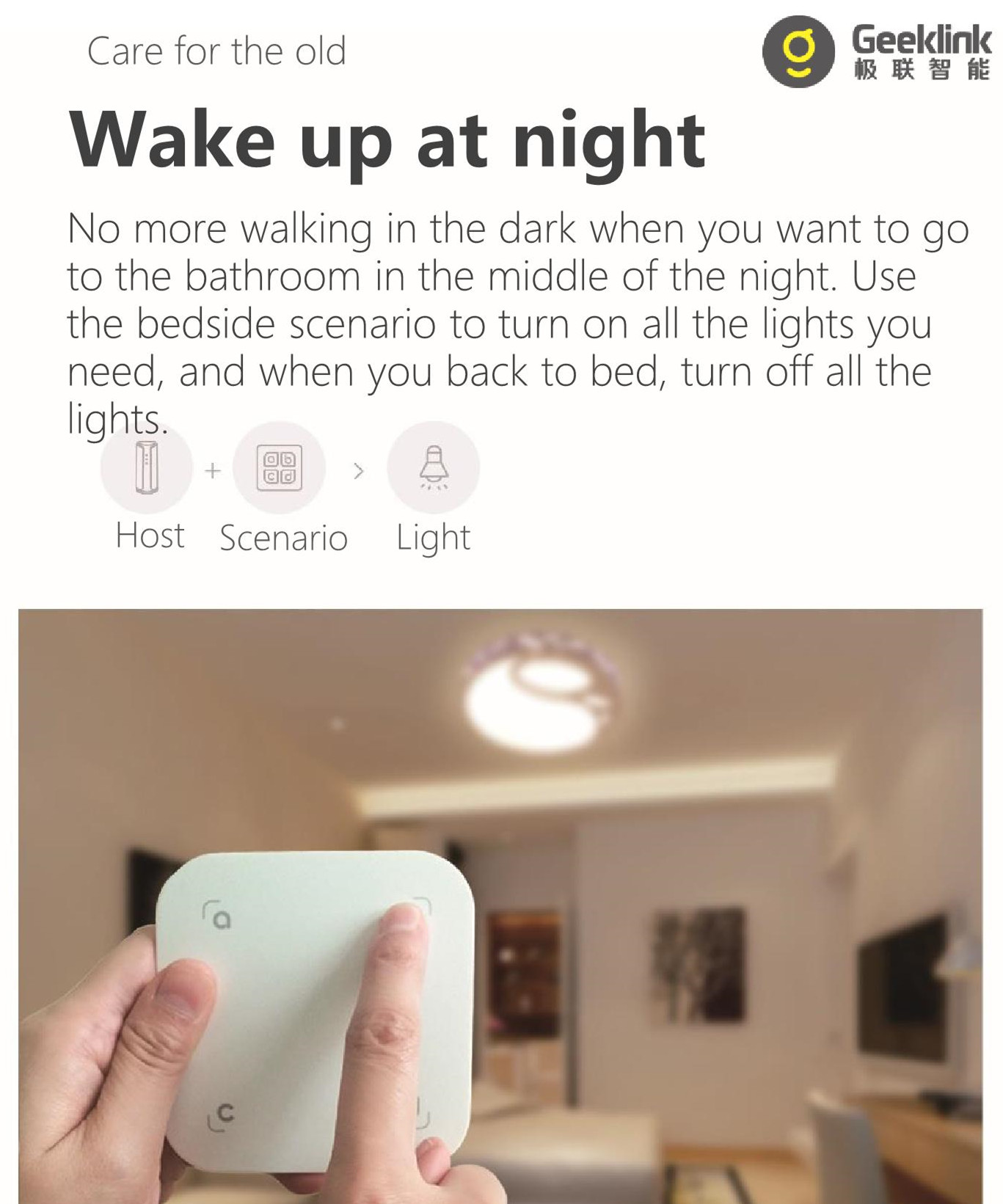 Convenient life
Out for vocation
Are you traveling and worrying about goldfish, potted plants, and small animals at home? Use Geeklink smart products and the timing and scenario function to take care of your home remotely. You can also view it remotely at any time through the camera.
Time for bed
Good sleep
You don't need to check and close all the lights before you sleep manually. Cellphone or scenario button can help you launch "Sleep Mode," and all the lights will be off. If you need, AC can also adjust to your favorite temperature mode.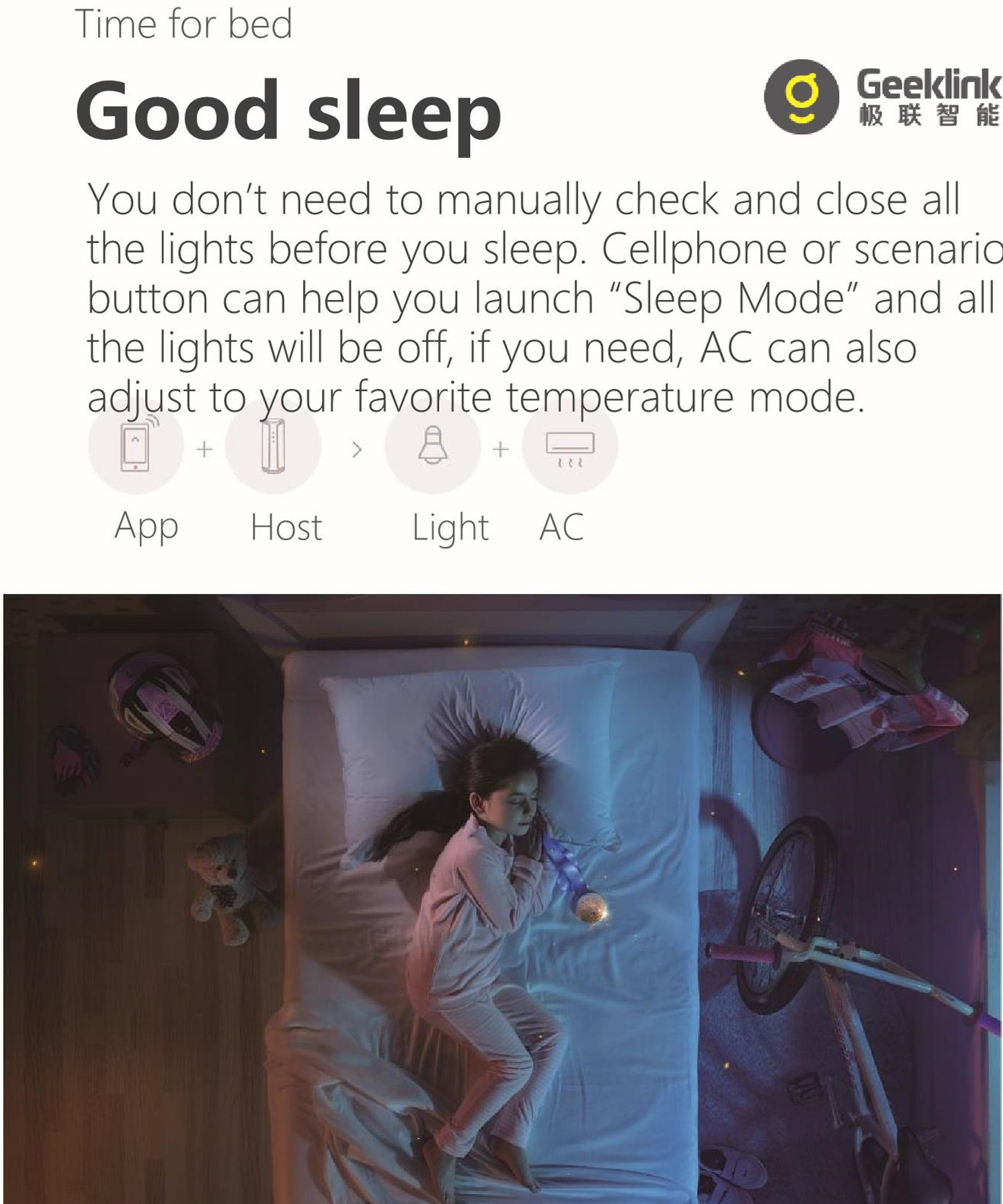 Eco-friendly life
Timing water boiler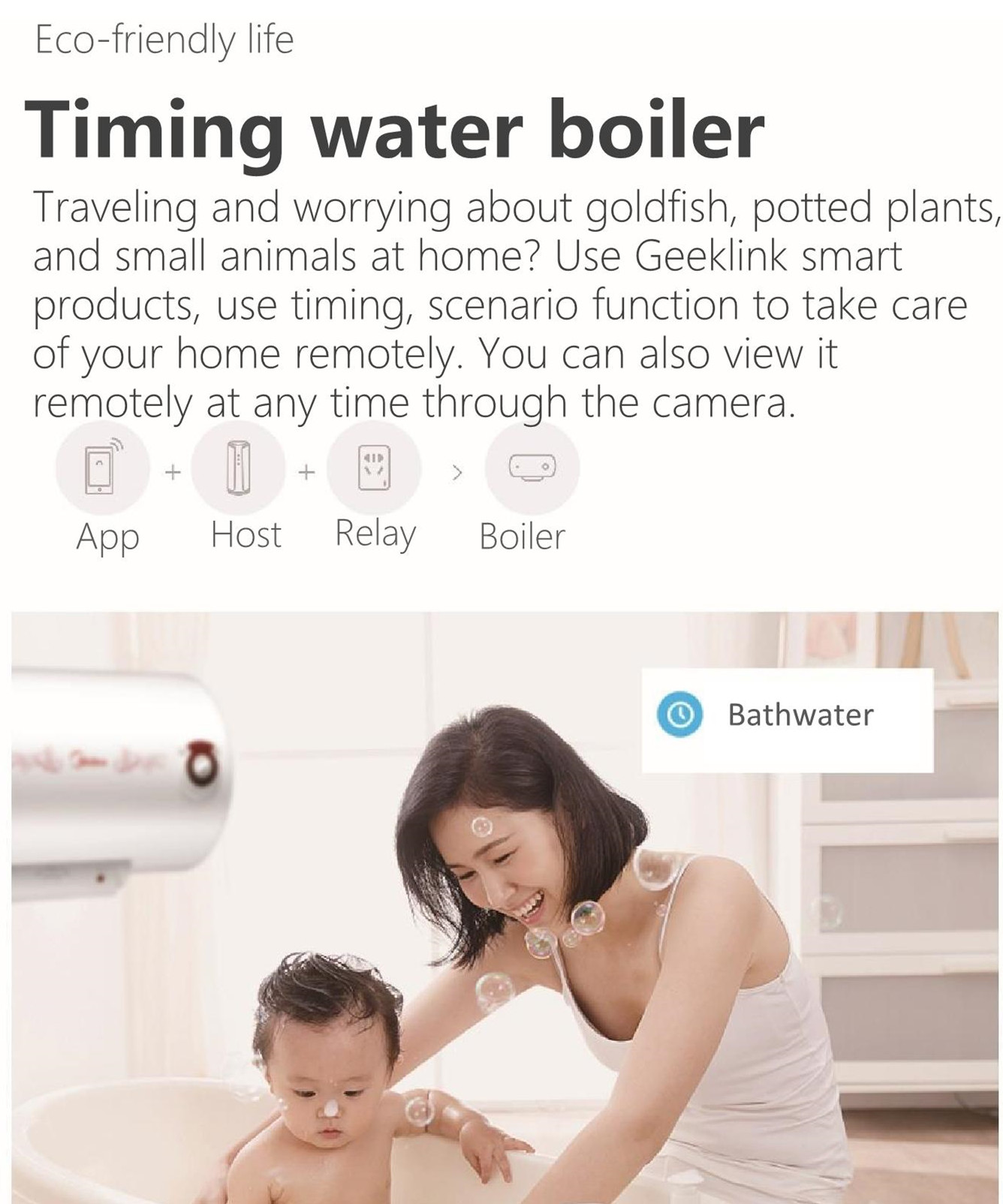 More Usage
Scenario and use
A timely warning for break-in
Install door and window sensor; when someone break-in, you will get an alarm app notification.

Loud siren At the site
A siren voice of 110db at sire can help you scare away the intruder.

View your house
IP camera enables you to remote view your house, Pan-tilt design, and you can view and control it.

Alarm warning
An abnormal situation such as a gas leak, smoke, or water leak in the house
Notify you by app or phone call if there may be an abnormal situation.

Lights status automation and monitor
When the motion sensor detects people at night, it automatically turns on the light. Remotely close the light with a cellphone.

Universal IR and RF controller
Turn off the Air-conditioner when detecting no one.
Turn on the Air-conditioner before returning to the house in summer.

Party mode
One button and lights, music, everything all set.

History record
Smart home devices always have a historical record of device status and warning notifications when the status changes.

By maura