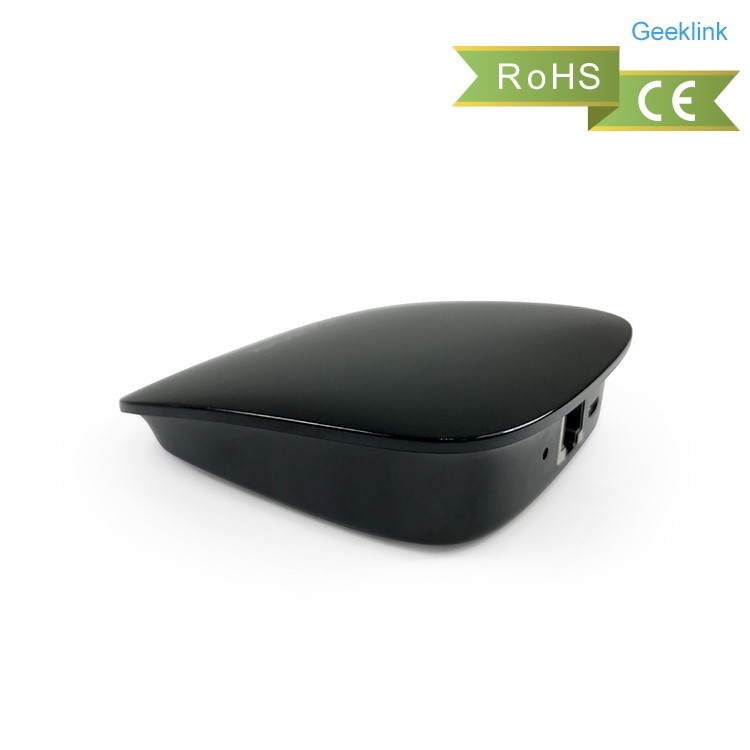 What is the function it have?
It can work with the smart home accessories to achieve below functions.
Illumination light

Curtain or shutter control

Smart home scenario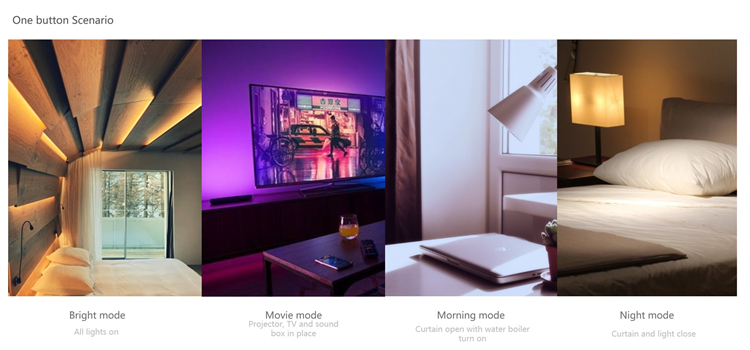 Security

More user scenario
When you have to go to bed at midnight, no more darkness.
Mesh Sensor detects you then it will send the signal to Gateway, and then gateway control the mesh switch to turn on.

One button in the bed closes the curtain and turns off the lights.
Multi control and scenario control enable you to one-button control multiple appliances.

The timer scenario function
Gateway timer scenarios enable smart devices to automatically work based on time. For example, at dusk turn on the light for you.

Intelligent temperature adjustment, providing you a comfortable environment.
Mesh gateway works with our central AC thermostat or IR universal controller to adjust the house climate

Once you get back home, when the door opens, then the lights turn on.
Scenario: from 6:00 pm to 7:00 pm, during this time when the house gate door sensor detects the door open, the gateway will turn on the light automatically for you.

What is the distance it can cover?
More than 2000sqm indoor since it has mesh function.
Connection Topology of Mesh
BLE Mesh Type
Not from one point to another
It is host connect and use its sub-device as the signal extension, all command will be sent from the host.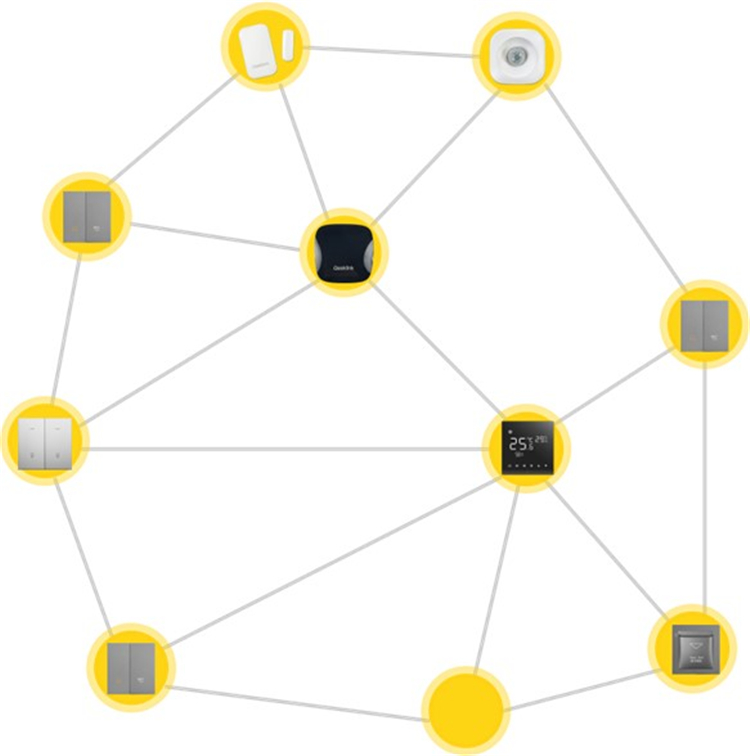 More extensions
Bluetooth used for a great amount of devices inter-connection and communication.
It allows you to create large networks based on multiple hosts. In this network, there could be dozens, hundreds, or even thousands of Bluetooth Mesh sub-devices that inter-connection and communication and build up an IoT for you.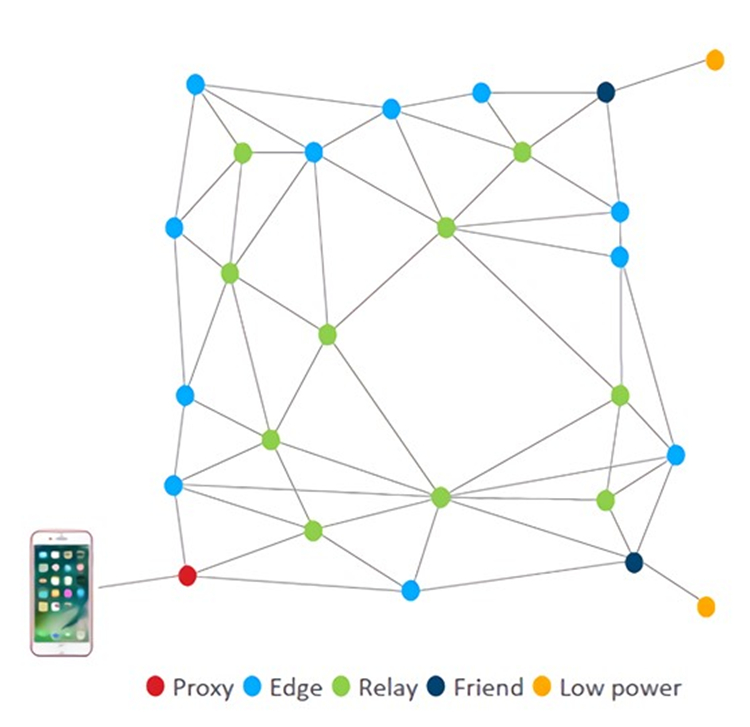 Description
Control center and host, connecting cloud and mobile App, connecting Bluetooth node device, processing command control and data acquisition of the Bluetooth node device, supporting multi-level expansion of gateway to achieve an intelligent coverage of larger area.
Features:
App control. Cellphone control house lighting, curtain and scenario.

Scenario linkage. Scenario operation by sensor, timer or scenario button.

Alarm security system.

Voice control by Alexa, Google Home.

Off-grid scenario. localization operation scene disconnected the network does not affect the function of the linkage scenario. Linkage scenario means scenarios that are triggered by sensors or other conditions.

Multi-gateway inter-connection network to achieve greater coverage.

Signal can transfer as mesh
Parameter
Basic
Name: BLE Mesh Thinker
Item No.: BLE-GT-1
Power Supply: DC 5V 1A
Operation environment: Temperature:-0~50℃,humidity:10%~95%
Material: Plastic (PC) + Metal
Gross Weight: 180g
Network Weight: 98g (only the hub, not including any accessory)
Product Size: 9.59.52.5cm
Packing size: 9.89.85.6cm
Accessories: 1pcs USB power cable, 1pcs power adapter
Technic information
Communication: BLE Mesh 5.0
Antenna Type: Built-in Omnidirectional Antenna
2.4GHz, antenna gain 4.5dBi
Ethernet: RJ-45(10 / 100Base-T)
Wireless: 2.4GHz, IEEE 802.11B/G/N
Support control: Geeklink BLE Mesh accessories. Switches, Door Sensor, Motion Sensor,
Software
Support: Android 6.0 /IOS 10 or above
App Name: Geeklink Smart Partner/Brilliant Home